I have been asked a few times now what are some of the ways to make money selling products online. So I thought it was time to write a short post outlining the most common way that people can make money selling online.
It Starts Here
The first step to selling anything online whether you are selling your own products or signing up for affiliate programs where you sell other companies products is you will need a website. I will tell you my #1 choice for building a website a little later in this post.
Through the website you can sell products that are related to any topic, this is known as a niche. The niche you pick is up to you. It can be anything that you are interested in. There really are no limits.
You do not have to have your own products to sell. There are several sites where you can sign up to promote and sell their products, this is known as affiliate marketing. Most online companies have affiliate programs, this mean you sign up to promote their products by placing links on your website and when someone clicks on your link and purchases the product from the company, that company will pay you a commission for each sale.
You can really pick any company, Amazon, Walmart, Best Buy, PetSmart even mattress stores or industrial supply stores have affiliate programs.
Amazon is the biggest and most well-known of all online retailers. They have the biggest range of products from Applesauce to Zebra shower curtains and everything in between. They don't offer the biggest commissions but they are a great way to start in affiliate marketing and most people can build a very lucrative income with their affiliate program. And there is no fee to become one of their affiliates.
ClickBank is a collection of products (mostly digital forms such as e-books) that you can promote and sell and get paid a commission but there is a membership fee to join. This is a monthly fee but the commissions can be a bit larger than other affiliate programs.
After signing up you can browse and pick the products that are related to your website niche and create an ad to promote the product and when someone clicks the link and makes a purchase you will get paid the commission.
So now that you have a little bit of an idea about how affiliate marketing works to make money by selling online let's get to that website I was talking about.
Let's Talk About That Website
Building a website can be very time-consuming and confusing. There are many aspects involved in getting a website up and running.
First you will have to have a domain – this will most likely be a yearly fee.
Second you have to have hosting for that domain – most hosting platforms charge a monthly fee.
Then you have to have the website theme template or spend hours building it from scratch. (you might have to pay for training or pay someone to do this for you)
You also have to make sure the website is ready for the online search engines such as Google and Yahoo – you might have to pay for more training to figure this out.
And of course you want to make sure your website is secure – this could be another monthly fee.
I don't know what you're thinking but I bet you're thinking it's starting to sound like this website thing is pretty confusing and could turn out to be pretty spendy. But don't panic I have a solution remember, I already have a favorite that I'm going to tell you about.
But first, I want to talk a little about the niche I mentioned earlier. Picking your niche can sometime be just as daunting as setting up the website, but it doesn't have to be. You just need to pick something that you are very interested in. Something that you won't mind doing a lot of articles about. If you get stuck and want ideas read my article – Picking Your Niche.
I'm almost ready to tell you about my #1 choice but let me take just a minute more and tell you about how I got here.
When I first started in affiliate marketing I knew NOTHING about building a website or how to link all the different elements of a website. The most I knew about computers was how to turn them on and use the specific programs I needed or do my own online shopping.
I never gave it any thought about how it all works and connects together. When I decided that I wanted to build my own website to generate an income so I didn't have to work for someone else I had to find the best program for the least amount of money.
I tried a few other programs, I even invested a few hundred dollars into one, but then realized that I would have to spend thousands of dollars if I wanted to finish that program.
I'm not a fan of businesses that work that way. I want to know ALL my costs up front, I don't want to find out there is a new fee around every corner. My money is too important to me and my family to have some company try to scam it out of me and I bet yours is too – am I right? I bet I am.
Needless to say I was frustrated, but still determined to find a way to succeed at this online selling thing. So I kept digging and researching until I found the one. The one that made me feel at home and confident that this really can work.
So are you ready to hear about my #1 choice – I know you are and I'm ready to tell you. All that talk on how to set up a website elsewhere is exhausting.
My absolute #1 choice is Wealthy Affiliate.
Now let me tell you WHY!
Setting up your website with Wealthy Affiliate is S I M P L E !! And it includes hosting AND website security so you don't have to worry about those extra costs.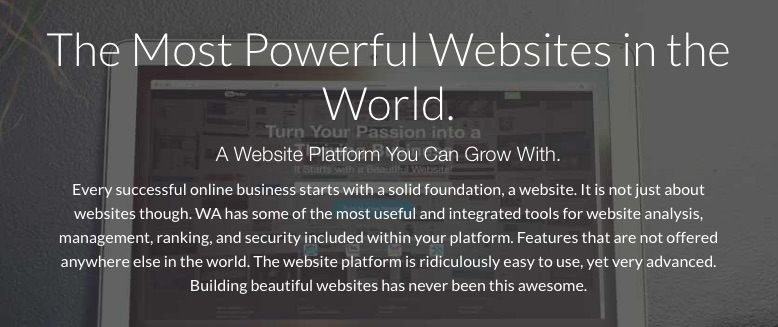 The Wealthy Affiliate platform is the most up to date, all-inclusive training platform on the market today.
When you sign up for a premium membership you have access to ALL the training modules, live training videos, live chat, website security, website support and a huge community of members that are available literally 24 hours a day to answer questions and offer inspiration and guidance.
Setting up your website is so easy you just follow the step by step training and you will have a website set up within minutes. Seriously!! It's that EASY!!
After your website is set up, you are then guided through the steps needed to make your website easy to find for the search engines, such as Google and Yahoo, this is important because you want people to be able to find your website when they are searching for related topics online. It also covers how to generate traffic to your site by utilizing social media and advertising.

Let's Get To The Memberships
I bet you are thinking that this must cost a fortune but I can tell you it doesn't. There are two levels of membership and depending on what your needs are will determine which membership you pick.
The Starter Membership gives you access to two free, YES FREE, websites using the SiteRubix platform and you get to choose from 12 themes. This includes hosting and the first Phase of Training. The first phase includes ten lessons and this is where you will pick your domain name and build your website.
This level of membership is perfect for people that are just getting started and don't have the funds to pay for the Premium Membership or they want to see what it's all about before they upgrade to Premium to see if it's the right fit for them.
It's also great for people who have the knowledge already so they don't need the additional training and they just want the free websites with the free hosting.
The Premium Membership gives you access to ALL the Phases of training, 25 free websites and allows you to have 25 of your own websites (WOW, that is a lot of websites!!) and you can choose from over 3,000 themes, so you can truly customize your site.
Included in the Premium Membership is also Site Health that will give you an analysis of your website so you can see if your site is meeting the optimal requirements to rank in the online search engines.
There are many other features that make the Premium Membership truly stand out above the rest but I think I've rattled on enough already.
To sum it up if you want to make money selling online you need a website before anything else. And the best platform that I have found is Wealthy Affiliate (Read my Wealthy Affiliate Review Here)
Click here to sign up for your Starter Membership. It is free, zero cost to get started, just enter your name and an email address.
If you are ready to start building your website so you can be on your way to making money selling online working from home (or anywhere else for that matter) then click here to open an account and get signed up for the Premium Membership.
It will cost you $19 for the first month and only $49 per month after that. And if you really want to save, you can sign up for the yearly membership for $359 for a year that saves you money in the long run by averaging your monthly cost to only $29 per month. (that's a savings of $20 per month!)
Now keep in mind it takes time and dedication to get a website (your business) up and running and earning income for you.
But remember all successful entrepreneurs had to start somewhere. Apple computers were started in a garage by an individual with an idea and look how successful that trademark has been.
With time, patience, hard work and dedication you will be able to make money selling online.
I really hope you have found this article helpful. Feel free to look around my site and read some other articles if you wish. If you have any questions or comments please leave them below.