My first computer was an old dos computer that my Dad built for us when he was taking his A+ certification course to work for the state. That had to be around 1997. At that time it never crossed my mind that someday I would have the best home based business using just my computer.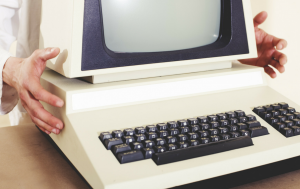 The only internet connection was dial up through your phone line so the computer was only good for typing letters (if you had a printer), taking typing test and playing a few games or taking HOURS to find anything on the "web". But it was pretty cool to be able to connect to other people and places. It opened up the "social media doors" so to speak.
So Fast Forward 30 Years…
There is high speed internet everywhere. It is the day and age of computers. We have them in our cars, our cell phones, our watches and if you're really high tech maybe even your house is computer run.
We can reach out almost anywhere and connect at anytime, day or night to almost any part of the world.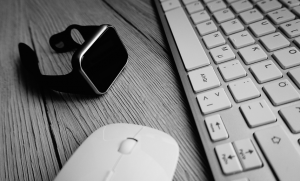 A few years ago I started thinking about how I was ever going to retire. IF I was ever going to retire. I was telling my Husband that the only thing we have going for us is that our house will be paid off by then.
That's a sad thought, that you will have to work for crappy employers and might never be able to retire.
So I started thinking of different ways that I could generate additional income and the best way I found that had the least amount of money required for start up was online affiliate marketing.
It makes perfect sense. I can build websites, write reviews about products and have someone pay me a commission. It doesn't get any easier than that. It is the best home based business because there is no inventory to deal with.
What Is Affiliate Marketing?
Affiliate marketing is much more simple than it sounds. All over the internet in almost every article you will find links that take you to other sites when you click on them.
These links are to products or websites that will pay commissions for people buying the products when someone uses that link.
There are many companies that offer affiliate programs for hundreds of different products with commissions ranging anywhere from 4% up to 50% or 60%. There are a few that actually pay up to 85%.
The only catch is some retailers have a very short "cookie" window. This means that if someone doesn't complete the purchase right away after they click the link on your site then the retailer will not honor the click thru cookie and pay you the commission.
"Link Cookies" are timed events. Meaning that they have an expiration on them. The average "link cookie" is anywhere from 24 hours to 2 days. But there are a few that are only a couple hours before they expire. So this is something that you would need to be mindful of when choosing who to become an affiliate for.
The First Step Is Your Website
Don't panic! It's not that hard to build a website when you use the right program. I'll tell you my #1 choice in just a minute.
You need to pick something that really interests you, something that you really enjoy or something that you truly have a passion for. If you get stuck you can refer to my article Picking Your Niche for some ideas.
I Don't Know How To Write
You do not have to be a writer, all you have to do is talk to your reader. Tell them a story, talk to them as if they were your best friend right there in front of you. What would you say, how would you say it? All you have to do is talk to them.
The training platform that I am talking about is Wealthy Affiliate.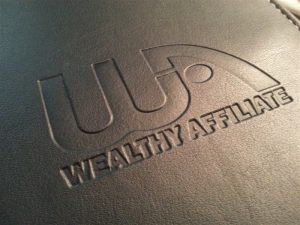 Wealthy Affiliate has thousands of members from all over the world.
It offers the training to build a website in just a few minutes through the use of detailed video lessons and written lessons, LIVE help and member feedback to offer encouragement or assistance when you need it. Website security and web hosting are all included at no additional cost.
There are only two levels of membership so you will never have to worry about any up sells.
The FREE starter membership is just like it sounds. Included in this will be the Phase 1 of the certification course and Phase 1 of the bootcamp course.
By signing up for the starter membership you will be able to get the feel of the training platform and the community support to test the water so to speak to see if this is for you. This level of membership includes two free websites.
The premium membership allows you to have access to all the training courses of the Certification course and the bootcamp course, the LIVE training, access to the site feedback and site comments platforms and it includes 25 free websites and you are able to have 25 of your own purchased websites. All for just $49 per month. But if you really want to save you can pay $359 for a yearly membership that averages the monthly cost to only $29 per month.
Other programs have charged thousands of dollars for training just like this that does not include your site security or your web hosting.
It's a pretty sweet deal when you think about saving thousands of dollars while still getting the amazing training.
So don't wait any longer to start your new career working from home. Click the link to get started right away for free.
= = = = = = > > > CLICK HERE TO SIGN UP FOR FREE < < < = = = = = =
OH I ALMOST FORGOT…IF YOU UPGRADE TO A PREMIUM MEMBERSHIP WITHIN YOUR FIRST 7 DAYS OF SIGNING UP YOU WILL GET THE "ACTION TAKER BONUS" THIS MEANS YOU WILL GET YOUR FIRST MONTH OF PREMIUM MEMBERSHIP FOR ONLY $19 THAT'S A $30 SAVINGS RIGHT FROM THE START.